Binance is one of the popular cryptocurrency exchanges designed for experienced cryptocurrency investors. It offers not only relatively low trading fees but also a wide selection of cryptocurrencies for trade globally. This article will review the advantages and disadvantages of Binance Exchange.
1. Binance Exchange Overview
Binance is a cryptocurrency exchange established in 2017 in Hong Kong. It was quickly growing to become the world's largest crypto exchange by trading volume. The company's initial growth and popularity was very impressive that they actually had to suspend registrations in January 2018. Binance is extremely well established now. It offers over 40+ fiat currencies; 600+ cryptocurrencies to customers all over the world, with no deposit fees (extremely competitive trading fees (maximum 0.1%)).
Nowadays, Binance is a feature-packed exchange that is perfect for experienced crypto traders and investors, since there are plenty of trading tools and options available. For some  beginners, it can be a little overwhelming. However, once you get the hang of it, you will realize why Binance is such a wonderful platform. 
2. Pros and Cons of Binance
Binance Exchange has a variety of features that can make it become one of the most popular crypto exchanges all over the world. There are some pros as well as cons so that crypto traders and investors have to know.
2.1. Pros
Binance is the largest cryptocurrency trading platform all over the world. This platform offers a robust selection of trading features and options. There are a lot of options and it may be very hard to choose one. This article is about to give more details on the best services offered on Binance so you can see both advantages and disadvantages of Binance Exchange.
2.1.1. Over 65 tradable cryptocurrencies available for customers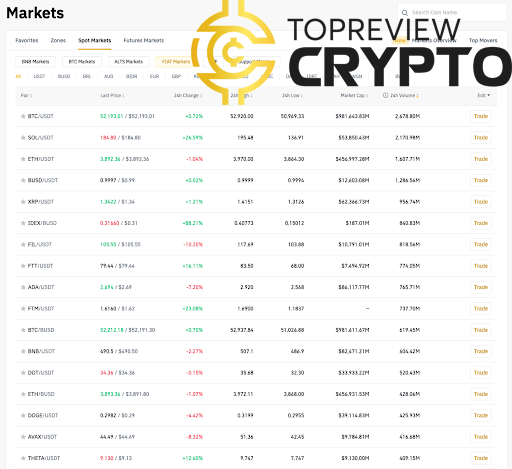 Binance Exchange is one of the greatest offerings available around the world. There are more than 600+ cryptocurrencies available on Binance Exchange. All of them are regularly adding new coins. In this platform, you are able to find a coin you want to invest in. Another great new feature is that the crypto traders and investors can even buy NFTs now on Binance. As the largest crypto exchange in the world based on trading volume, the higher liquidity, the more coins you can buy and sell on their platform.
2.1.2. Extremely low fees
The platform offers low fees. It means that a lot of traders get to keep more of their investment and earnings. Binance Exchange can offer low fees for users because of the large customer base and the huge amount of trading volume it has. The base rate for selling or buying coins on the market is just ~ 0.1%, which can be further reduced. 
The easiest way to receive a discount on the fees is very simple. You just need to pay your fees using Binance's own token (BNB). Automatically, you will receive 25% off for the fee when using this token. It means that instead of paying 0.1% for a trade, you just need to pay only 0.075%! Additionally, if you own a certain amount of BNB coins and your 30-day trading volume is high, then you can receive further discounted trading fees.
2.1.3. Wealth of trading options and tools
There are many kinds of trading options and tools including Spot trading, NFTs marketplace, staking, Margin trading, P2P exchange, and Futures. Experienced traders will be interested in the detailed charts available on the platform as well as the use of limit orders and stop-limits.
NFTs: Becoming increasingly popular. Binance has a new NFT marketplace where users can mint, sell and buy NFTs.

P2P exchange:  In virtually any country, Binance Exchange offers a Peer-To-Peer (P2P) exchange.  It allows users to trade crypto directly with each other on their own terms. 

Margin trading: It is only available for a select few trading pairs, with users able to leverage up to 10x on some pairs. Cross margin trading is very risky as it risks your whole account, while isolated margin trading only risks the trading pair you are looking at in that situation.

Trade Futures and Derivatives:  It is a new feature of Binance Exchange. Users can speculate on the price of Bitcoin and altcoins (Litecoin, Ethereum, Bitcoin Cash, Ripple, and more). Users are not actually selling or buying the cryptocurrencies when trading futures. They just take advantage of the price rises or falls to make money.
2.1.4. Mobile app available for Android and iOS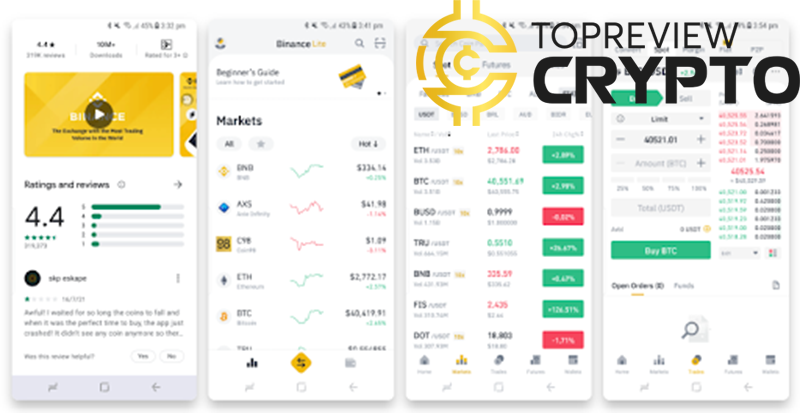 Binance is an excellent Mobile app.  Within the one app, it is easier for newbies to use by clicking on a button – Binance Lite version. Besides, The Binance Pro version is often used for advanced traders with advanced features and trading tools. According to Google Play store, the Binance app now has over 10 million downloads with a high user review rating.
2.2. Cons
Besides some advantages, there are some disadvantages that you can consider.
Limited U.S version: Not available in the USA; US residents need to use Binance.US. However it is only available in 44 states.

Poor customer service – lacks live chat support: If you are an expert in crypto trading, you may not find it an issue, but for newbies it can be frustrating encountering issues and they may not be able to speak to anyone to resolve it.

The platform may be quite complex and confusing: While the broad range of features and trading options on Binance may be exciting, it can also be intimidating. Even some experienced traders can feel overwhelmed by all the options available.

No built-in digital wallet available: Binance Exchange does not have built-in digital wallets. 

There are some regulatory troubles in several countries.
3. Cryptocurrencies Available on Binance
Binance Exchange has more than 365 cryptocurrencies available for trade on its exchange. However, it just has 65+ available in the USA. For most international users, Binance Exchange also supports a variety of fiat currencies, including EUR, AUD, HKD, GBP, INR and USD. Depending on the users' location, Binance has a large variety of cryptocurrency pairs.
Some of the cryptocurrencies available on Binance United States are: VeChain (VET), Binance Coin (BNB), Harmony (ONE), VeThor Token (VTHO), Matic Network (MATIC) and Dogecoin (DOGE). Additionally, Binance Exchange also supports some popular cryptocurrencies, including:
Cardano (ADA)

Cosmos (ATOM)

Dash (DASH)

Bitcoin (BTC)

Litecoin (LTC)

Compound (COMP)

Ethereum (ETH)
4. Trading Experience
Binance provides a variety of trading tools. It includes real-time charting tools with moving averages and exponential moving averages. Many users can place trades through Binance app/ website, or desktop app. 
Some traders can use the Binance platform to access the portfolios and trade history. They also can view the order book and price charts. Additionally, Binance Exchange offers various order types (stop order, stop-limit order, limit order, trailing stop order and stop-market order). Traders can also choose their different trading views ranging from classic to margin and OTC views. However, a lot of these features are unavailable in the United States, which includes margin trading and some of the order types.
5. Binance Fees
Binance Exchange has extremely low fees, with some options to further reduce them as well.
5.1. Binance Deposit Fees
There are zero fees if you are depositing cryptocurrency into Binance Exchange fees.

The fee will vary depending on the method of deposit/ the currency if you are depositing fiat currency into Binance. For instance, it is free of charge if you deposit AUD (Australian Dollars) using OSKO/ PayID. The fee will be 3.50% if you deposit Hong Kong Dollars (HKD) using a bankcard.
5.2. Binance Withdrawal Fees
To Withdraw cryptocurrency from your Binance account, you have to incur a flat fee to cover the transaction costs of moving the crypto to your wallet. This fee varies depending on each coin.
For fiat currency withdrawals, the fee varies depending on the currency and the withdrawal method. For example, withdrawing AUD (Australian Dollars) by bank transfer is free of charge. Withdrawal of GBP (Pound Sterling) using Bankcard incurs a 1% fee.
5.3. Binance Transaction Fees
Binance transaction fees for spot trading (buying/ selling crypto) start at a low 0.1%. Traders can get a 25% discount if they pay their fees using Binance's own coin (BNB). This means they are only paying 0.075% on each trade! 
Compared Binance Exchange to Coinbase Pro
Coinbase Pro and Binance Exchange are the two largest exchanges in the world. They also provide active traders versatility in trading options and assets.
| | | |
| --- | --- | --- |
| | Binance  | Coinbase Pro |
| Cryptocurrencies | Binance International supports cryptocurrencies more than Coinbase Pro. | Binance U.S. supports fewer cryptocurrencies than Coinbase Pro |
| Spot trading fees | Lower fees  | Higher fees  |
| Rewards programs | For holding BUSD on its platform | For staking the digital assets on its platform |
| Access rights | Binance users have no access to a native digital wallet | Coinbase Pro users can access to a native digital wallet |
To sum up, Binance is a big name in the cryptocurrency world, and for good reason. It is the greatest crypto exchange by trade volume, with competitive fees and a platform that is built for beginner investors and experienced traders alike. If you are looking for more information about Binance Exchange review, please contact us.