Nowadays, there are many exchanges that can help both traders and users in their transactions. In this review, TopreviewCrypto will introduce and give more detailed information about one of the most popular exchanges in the world – Mexc Exchange review. 
1. Overview
MXC is the latest cryptocurrency platform exchange. It was established in 2018 (Seychelles, East Africa). MXC is having abidance licenses in four well-recognized nations (Australia, Canada, the US, and Switzerland). The exchange has featured about 371 coins (752 pairs) with a standard business volume of approximately USD 4 Billion.
Mexc has a sophisticated cold storage wallet. It helps fortify the security of funds that are hived away on the exchange. Currently, the platform is designed to manage $500 million worth of cryptocurrency deposits. The platform uses a high-performance mega-transaction matching technology.
Mexc has the usual security features similar to other crypto exchanges such as using 2 factors authentication, by both mobile phones and Google Authenticator.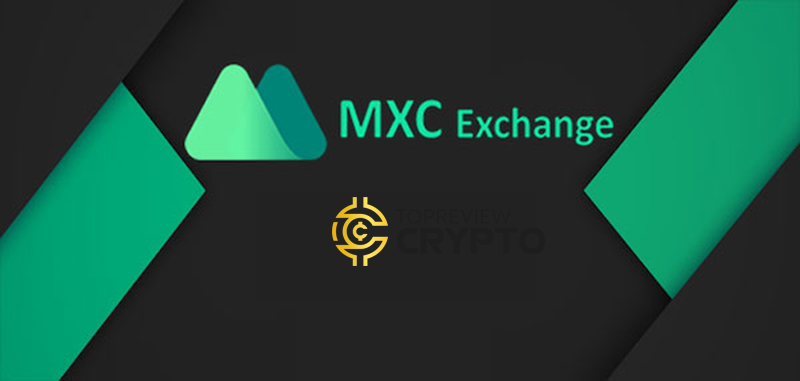 2. Mexc Exchange review (Features)
Here are some main features of Mexc Exchange:
2.1. Spot Trading and Margin Trading
Users can spot/ margin trade in all the 371 coins that are listed on the exchange. Also, new coins and projects are being added at frequent intervals, and users will find popular Polkadot, NFT, coins, DeFi on this exchange, which can not be listed elsewhere. In particular, Mexc was one of the first exchanges that can list many of the popular tokens, and before everyone else.
Spot trading: Spot trading is a term that is used to describe the direct purchase/ sale of a financial asset. Spot trading is a popular trade mechanism in financial markets where users only use assets they own without borrowing/ leveraging. On the Mexc exchange, it is offered for hundreds of coins, trading pairs with the obvious front runners of MX,  ETH, BTC, and LTC among others.

Besides, margin trading is also provided on the exchange. It is also a trading mechanism in which users borrow funds from a third party for trading. It's popular in low-volatility markets such as Forex because it allows its crypto traders to benefit from even little price changes. On the Mexc exchange, users can margin-trade up to 72 coins with varying degrees of leverage (maybe from 2x to 10x).
2.2. ETF Trading
Presently, Mexc Index Product includes public chain index, major cryptocurrency index, Defi asset index, halving cryptocurrency index, etc.

The major benefits of an ETF are:
Risk spreading (since the risk is spread over a group of assets)

Energy Saving (through investing in an ETF, a user indirectly invests in all the underlying assets of the ETF which can save him/ her from the hassle of researching themselves).
2.3. Contract Trading
This contract is a derivative that is different from traditional futures. There is no expiration/settlement and also no time limit for position holding.
This works on a Funding mechanism where payments are exchanged between the sellers and the buyer every 8 hours. If the rate is positive (+), then shorts will receive the rate and longs will pay, and vice versa if the rate is negative (-).
The funding mechanism also keeps the contract price close to the price of the underlying asset.
2.4. POS (Proof of Stake) Staking
Users holding relevant tokens can join Mexc PoS Pool and then earn yield. There are two types of PoS available for users – "Savings" and  "Staking".
2.5. Futures Trading
Futures Trading is the most popular derivatives tool. Users do not own the underlying coin, but they can assume on the coin's price in any direction, either down or up. Since users do not own the coin, they cannot enjoy any intrinsic benefits of holding such a coin (staking and voting). However, on Mexc, users can enjoy up to 125x leverage on either coin-margined futures or USDT-margined.
2.6. P2P Trading (Push)
P2P(Peer to peer) transactions play an important part in the crypto world. It is an essential feature because it helps to boost decentralization which is one of the hallmarks of blockchain finance. This feature is also known as PUSH on Mexc global exchange.
On PUSH, the buyers first release their purchase orders (which can only be canceled when partially filled or unfilled). Then the sellers make a bid by entering the amount they want to sell and also the preferred price.
3. Mexc Exchange review (Pros and Cons)
The pros and cons will help users understand if the platform is any good for them, or whether they should keep looking for another suitable choice according to their preferences.
3.1. Pros – Mexc Exchange review
Mexc Exchange brings many benefits:
3.1.1. Quick crypto selling and buying
Some users are running short on time and they want to get through tasks efficiently and quickly. Thanks to Mexc's quick selling and buying feature, users can easily make their crypto transactions within a matter of seconds. All the users through the top menu of the platform can easily access Mexc . As soon as they click on the feature, it will provide a list of crypto assets and fiat currencies users can choose. They can also choose the preferred payment method to meet their needs.
3.1.2. Over 200+ cryptocurrencies available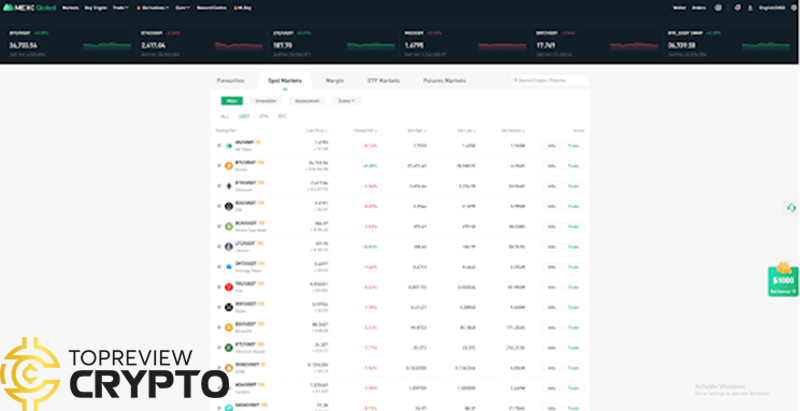 When selecting a crypto exchange, one of the most important points for traders and investors to consider is the diversity of assets available. With Mexc, they don't have to worry much about this factor since they offer tons of trading pairs and cryptocurrencies to traders and investors. Users can find more than 200+ cryptocurrencies and also more than twice the number of trading pairs.
There are numerous cryptocurrencies available at Mexc, which range from the most popular or hyped ones to some new projects that not many have heard of. Users should evaluate all their choices/ decisions before investing.
3.1.3. Apps available for iOS, Android, and Windows users
Having dedicated apps for a crypto trading platform can help the transaction become more efficient and faster. Mexc's users can access their apps for Windows computers; iOS and Android mobile devices. Almost all of the features are available on the three platforms in order to provide a seamless experience without restrictions.
3.1.4. Several trading markets available
Mexc not only have a huge range of cryptocurrencies, but they also provide various markets that advanced crypto traders enjoy. Mexc Exchange has margin trading, spot trading, and derivatives trading (including ETF margin trading, ETF indices, and futures trading).
Traders can also access the charts and apply common practices or implement their techniques, then proceed with their orders.
3.1.5 Trade with up to 125x leverage
If you were extremely short on funds but still want to have a strong exposure within the market, leverage trading would be the best choice for you. Leverage trading just allows traders to borrow money from the platform that they are using in order to open deals or positions. The leverage limit on Mexc is 125x. It is a huge number compared to most other crypto exchanges.
However, leverage trading also has a downside. Users can lose their funds very fast if their open trades go the wrong way. TopreviewCrypto does not recommend leverage trading if you are not very experienced.
3.1.6. Accurate and Super-fast charts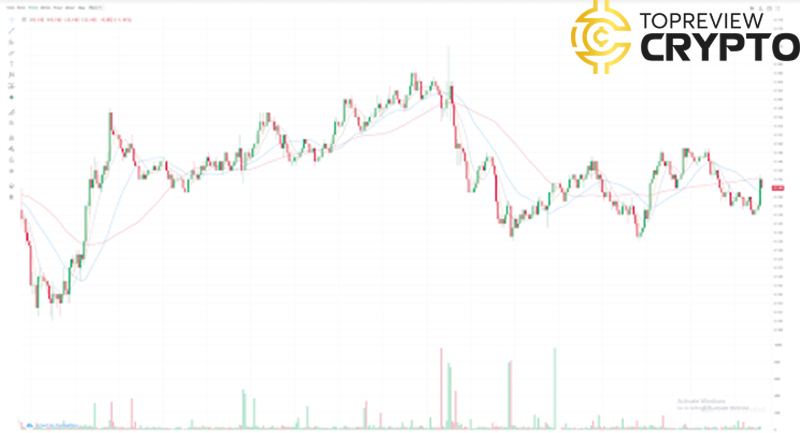 Inaccurate and slow charts can make traders lose money because of an incorrect evaluation of the market. Luckily, Mexc's trading charts are among the fastest available, with precise movements. Not only that, users can open quickly without annoying load times. They can select any asset or trading pair, and then the trading chart will pop up within seconds to evaluate and customize. 
It is also possible for traders to select different timestamps of the charts, select different main and sub-indices, change the candles, expand the whole chart, or use other features too.
3.1.7. Staking available for several cryptocurrencies
In fact, everyone loves the idea of passive income, and staking with Mexc can help you, too. You can take a look at the staking section to know which assets are available for betting and also how much you can earn. There are locked and flexible staking options. You will find some popular cryptocurrencies such as DOT, ETH, and BTC.
The interest rate for the earnings may vary depending on the agreement and market conditions. You can earn as much as 68% APY on some new coins. This is an incredibly high rate. 
3.1.8. Range of deposit and withdrawal methods
Nowadays, Mexc has partnered up with different third-party merchants to provide variety to users. Aside from Mastercard, Bank Transfer, or Visa, users also have the option to directly buy cryptocurrencies through Google Pay/ Apple Pay or deposit money. The most important thing to note is that fiat deposit options might be different depending on the country you are living in. As for cryptocurrency deposits, they are available for all users, no matter where they live. 
For crypto withdrawals, users can make them directly through the Mexc platform. For fiat withdrawals, users might have to go with P2P trading in order to get their funds safely in their accounts.
3.1.9. Premium help center with multilingual support
Mexc has different communication modes available for its users to choose from. Users can go with the Live chat option or simply open a ticket to get a reply. Moreover, Mexc's help center provides multilingual support so that users from different nations can easily access assistance.
3.1.10. Hassle-free platform with easy registration
The overall interface of Mexc is particularly easy to use, and clear. Every option is listed on the website's top menu, and users can explore the available options.
If users are opening their account for the first time, they don't have to go through a lengthy registration process. They only need their email address to verify their account, and they will be ready. However,  for their own safety, once users deposit funds and start trading, they may have to submit some official documents.
3.2. Cons –  Mexc Exchange review
Although Mexc is a great crypto exchange, it does come with a few negatives:
Very limited cryptocurrencies are available for quick buying.

Trading without margin.

Occurrences of user complaints.
4. Mexc Supported Currencies and Countries
Supported Cryptocurrencies: Bitcoin (BTC); Bitcoin SV (BSV); Bitcoin Chainlink (LINK); Cash (BCH); Cardano (ADA); Dogecoin (DOGE); Dash (DASH); Ethereum (ETH); Ethereum Classic (ETC); Eos (EOS); Litecoin (LTC); MX Token (MX); Neo (NEO); Ontology (ONT); Polkadot (DOT); Quantum (QTUM); Tron (TRX); Ripple (XRP); Stellar (XLM); VeChain (VET).

Supported Countries: Bangladesh; Belarus; Bolivia; Congo; Cuba; Crimea; Ecuador; Iraq; Iran; Libya; Lebanon; Kyrgyzstan; Myanmar; North Korea; Sudan; Syria; Yemen; Zimbabwe; Somalia; The central African Republic; The U.S. Virgin Islands and The United States.
5. Mexc Fees
It includes Mexc Deposit Fees, Mexc Trading Fee, Mexc Fiat Withdrawal Fees, and Mexc Crypto Withdrawal Fees.
5.1. Mexc Deposit Fees
When depositing cryptocurrency into users' accounts, Mexc does not charge their users. However, they will have to pay a separate fee set by the third-party merchants when depositing fiat currency. If users want to know the exact fee they have to pay, they can check it by choosing a particular deposit method.
5.2. Mexc Trading Fee
Mexc's fixed trading fee is 0.2% for both takers and makers. It is definitely not the lowest fee among crypto trading platforms, but it is reasonable.
5.3. Mexc Fiat Withdrawal Fees
Fiat withdrawals are processed through P2P trading on Mexc or through third-party merchants. This is the reason why there is no specific fee for fiat withdrawals at Mexc. Users will have to check the fee themselves at the time of withdrawing their funds. The fee can be anywhere between 2% to 5% or even higher in some situations.
5.4. Mexc Crypto Withdrawal Fees
With withdrawing cryptocurrencies, Mexc charges a different fee for different assets. Some crypto coins have a specified amount that users have to pay in order to withdraw them while others are free to withdraw. There is also a crypto withdrawal fee chart available on the Mexc fee page. It is where users can find the withdrawal fees for each coin.
All in all, Mexc has a great possibility of becoming a leading exchange in the crypto industry. It is a reliable exchange to trade on. If you are still finding more information about Mexc Exchange review, don't forget to contact TopreviewCrypto.