Huobi is one of over 400 different cryptocurrency exchanges available around the world now. In this
Huobi Exchange review
, all the important factors regarding the platform such as the pros and cons, or fees, are discussed to help users understand more about it.
1. Overview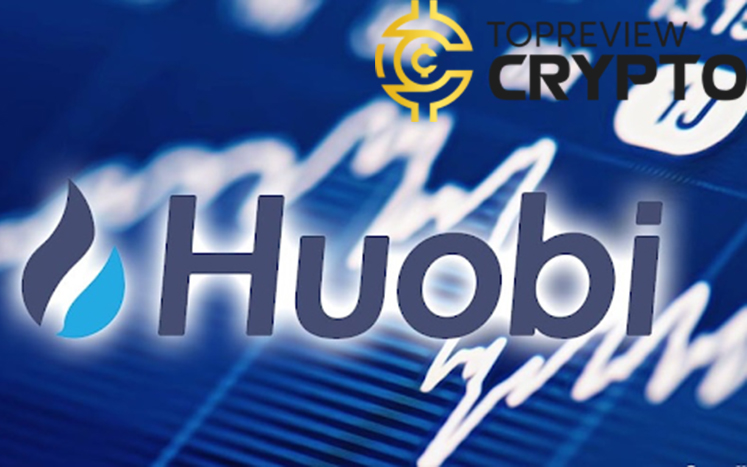 Huobi exchange was established in Beijing by Leon Li in 2013. Its purpose is to provide a cryptocurrency trading platform for almost individuals in mainland China. Then, Huobi quickly rose to become one of the 3 big crypto exchanges in China, offering abundant liquidity to Bitcoin traders.
However, Huobi moved its crypto trading services abroad in 2017. Then it was incorporated into Seychelles and also built a new headquarters in Singapore.
Huobi is available in many countries in the world, but it does not support a few countries such as the United States, or Japan (though Japan's users can use Huobi Japan instead).
Huobi provides crypto-to-crypto trading, with a very big selection of supported assets and also well low trading fees. This platform is designed for institutional investors and active traders, it offers to stop, limit, and trigger orders, as well as future trading and margin trading. Institutional traders can also access OTC trade desks, custom trading tools, or derivatives.
Despite lapses in its company history, Huobi has managed to create a thriving crypto-asset ecosystem, comprised of its own blockchain; the Huobi Token (HT); Huobi Eco Chain; a dollar-backed stablecoin called HUSD. Huobi today claims to serve tens of millions of users in over 100 countries.
2. Pros – Huobi Exchange review
The Huobi exchange brings the following benefits to its registered clients:
2.1. Easy User Interface
The Huobi website is very easy to navigate and balances functionalities, elegance, and visual pleasure. It provides charting tools, proper price feeds, and market depth data which is organized structurally within the trading interface. The alternative HADAX crypto market supporting smaller altcoins and tokens also benefits from Huobi's functionalities and professional interface.
2.2. Multiple Order Types
Huobi exchange presents the following order types:
Stop Limit order

Limit order

Market order
Huobi exchange also supports margin trading in BTC (bitcoin) and LTC (Litecoin) with 5x leverage and a 0.1 % fee for 24 hours.
2.3. Flash Trade
The Flash Trade is one of the most compelling features of Huobi that contains a chart index, an order book, and a market chart. The Flash Trade allows users to try real-time trading volume, specifically at times of high volatility.
2.4. Compatible Across Multiple Platforms
Huobi is consistent with multiple platforms like Windows, Mac, iOS, and Android, which allows traders to trade on the go. The platform is easy to navigate and supplies the same functionalities as the desktop version. Besides, the app enables its users to complete all the required verification and also registration compliances instantly from the mobile phone itself.
2.5. Security
The security measures at Huobi are strong. As mentioned in the Overview part, Houbi's platform is incorporated in Singapore, where the crypto regulations are developed and help various blockchain startups. It also provides multiple security mechanisms to protect users' accounts such as the 2-factor authentication (available for both Authenticator apps and SMS).
2.6. Swift Customer Service
Huobi quickly responds to every single customer issue. Users can contact its customer support team very easily. The customer service team instantly answers any trading issues within an hour.
2.7. Huobi Margin Trading
One of the greatest attractions to Huobi trading is that traders can access up to 5x leveraged trading for spot markets on +80 tokens. On the spot market, tokens that are public for leveraged trading can be pinpointed by the letter 'x' by the token and the number shown in a blue box. All of them can be seen below: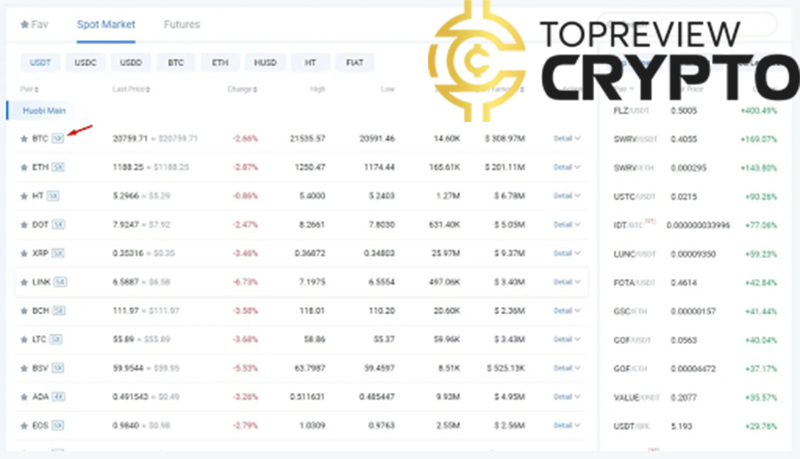 2.8. Huobi Leveraged Exchange Traded Products
Huobi offers Leveraged Tokens with 3x leverage built instantly into the underlying asset, which can be accessed straight from the main trading screen in 2 locations: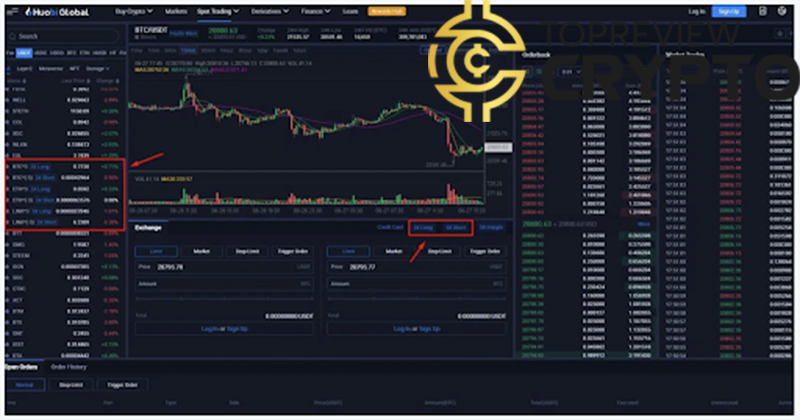 The assets obtainable to trade are Chainlink, Bitcoin, and Ethereum. They have these ticker symbols:
BTC*(-3)– used for 3x leverage short Bitcoin

BTC*3– used for 3x leverage long Bitcoin

ETH*(-3)– used for 3x leverage short Ethereum

ETH*3– used for 3x leverage long Ethereum

LINK*(-3)– used for 3x leverage short on Chainlink

LINK*3– used for 3x leverage long on Chainlink
Honestly, these leveraged instruments have become more and more popular for traders since they traded on the spot market. They are less complex and risky than trading with leverage. It is a safer and easier way for traders to achieve access to leverage which can support magnify profits (and release losses). There are also no liquidation risks related to trading leveraged ETPs.
2.9. Huobi Futures Trading
As for derivatives trading, users can trade the following derivatives products:
– Options
– Perpetual Swaps
– Traditional Futures
– USDT-Margined Futures
– Coin-Margined Futures
On Coin-margined futures and certain derivatives products, traders can access up to 200x leverage.
2.10. User Protection Fund
Huobi conducts its profits into its "User Protection Fund". It is more like an insurance policy to protect against hacks, thefts, or other unpredictable events that maybe affect the users' wallets. This is an enormous plus for its clients because getting an insurance cover means that while trading on the exchange, they can have an assurance of getting funds back if anything goes out of control.
2.11. Institutional Trading Accounts
As one of the biggest crypto exchanges, Huobi has attracted a lot of institutional traders and investors from all over the world. To cater to the requirements of these traders, Huobi has launched a particular trading desk involving both dark pool trading and OTC (Over-the-counter).
2.12. Smart-Chain Analysis
It is a very helpful value-added functionality presented on the Huobi platform. It provides detailed information to the users on different blockchain assets and +50 different trade indicators.
2.13. Huobi Trading Bot (Huobi API)
Huobi lets its users code their trading bots through or the REST API or the Huobi API key to begin trading with the Huobi API. Its users just need to create their API key and they shouldn't share it with anyone.
3. Cons – Huobi Exchange review
Not for the beginner because the trading interface can be too complex.

Not available in the U.S.

Users have to mobile app or desktop for live chat support

Lack of fiat withdrawal support.
4. Huobi Accepted Payment Methods – Huobi Exchange review
The Huobi platform accepts two FIAT currencies. They are the Chinese Yuan (CNY) and US Dollar (USD). Besides, they also accept 2 leading digital currencies. They are Litecoin (LTC) and Bitcoin (BTC).
5. Huobi Token (HT) – Huobi Exchange review
In its process, Huobi founded its token HT, which operates on the Ethereum blockchain. Unlike other native tokens launched by crypto exchanges, Huobi token price (HT price) was not given through an ICO but was released as a dedication scheme to holders' accounts. Holders of HT tokens can vote for new tokens which are added to the alternative HADAX platform or pay for service-fee packages. HT tokens were valued at $300 million worth in the first 14-day of its launch.
On the exchange, HT users have the right to lacerate the crypto trading fees in half and also allow users to join in governance decisions. Moreover, to reduce fees, users just need to have the HT tokens in their best crypto wallet; then choose the option to use HT from the token configuration panel using for trading fees. Currently, they can get a huge discount against the standard trading fees.
Also, there are VIP memberships obtainable to users that they can book to decrease the same fees to a max of 65%.
6. Cryptocurrencies Available – Huobi Exchange review
Huobi offers trading for over 400 cryptocurrencies and it regularly adds new assets to its platform. There are some of the most popular digital tokens and currencies you can presently trade on this platform: Zcash (ZEC); Uniswap (UNI); Tron (TRX); Tether (USDT); Huobi USD (HUSD); Huobi Token (HT); Monero (XMR); Litecoin (LTC); Ethereum (ETH); Dogecoin (DOGE); Bitcoin (BTC).
7. Trading Experience – Huobi Exchange review
Huobi exchange is available as a mobile app for iOS/Android and a web-based platform.
The exchange provides VIP account tiers depending on the number of Huobi Experience (EXP) points that a user has collected. Users get EXP depending on their trading volume or cryptocurrency holdings that are held on the exchange. Based on the number of EXP collected in the last 30-day, a user can upgrade his or her account to Advanced/ Insider/ Premier/ Ambassador/ or Partner.
VIP account holders' benefits run from gifts to a private account manager and increased limits.
8. Fees – Huobi Exchange review
Huobi offers well low fees for trading crypto, however, higher fees for those hoping to purchase crypto with a debit card or a credit card. Fiat deposits (like U.S. dollars) are free, while users have to pay trading fees.
Huobi trading fees are especially competitive because o owing to the platform's transition to a native token-based economy such as BIbox, KuCoin, and Binance. Because deposits and withdrawals in or out of Huobi trading accounts are created in cryptocurrencies, the platform used to support both Fiat Yuan and USD withdrawals and deposits before the government's imposition of the crypto banning, so there is no fee attached.
Trading fees are also extremely reasonable. The exchange does not distinguish between the taker and the maker and charges a 0.2% flat rate from them. However, the trading fees can be reduced to 0.1% on a sliding scale based on trading volumes.
9. Huobi Withdrawal Fee and Limits – Huobi Exchange review
The Huobi withdrawal fee charged for the top 7 coins are:
Bitcoin Cash – 0.0001

Bitcoin – from 0.001 to 0.001

Ethereum – 0.01

EOS – 0.5

Litecoin – 0.001

Tether – 20

XRP – 0.1
As per our
Huobi exchange review
and research, the platform allows users to create an account without any KYC compliances. The holders of an unverified account can withdraw a maximum of 0.1 BTC per day which is presently worth $600 per day. For ETH (Ethereum), the maximum withdrawal limit is no more than 2.5 / day; for BCH (Bitcoin Cash), it is 0.6; for XRP (Ripple) is 2500; and for LTC (Litecoin) is 5 per day.
Crypto Withdrawals and Deposits are supported on Huobi. However, fiat withdrawals are not supported, except USD via a Stcoins API key, and a TRY can be withdrawn through AdvCash. The deposit methods supported include:
BRL– Bank transfer (PIX)

EUR–Bank Transfer/SEPA fiat deposits or Purchase crypto via card

INR– Bank Transfer/ Buy USDT via UP

GBP– Bank Transfer/Purchase crypto via card/ Faster Payments fiat deposits

KZT– AdvCash

TRY– AdvCash

RUB– Bank Transfer, Bank card, AdvCash

USD– Bank transfer/ABA, Purchase crypto via card, SWIFT, SEN fiat deposits

UAH– AdvCash/ Bank card
Houbi platform supports currencies that can be used to buy crypto with a credit card or a debit: AUD, BGN, CZK, CHF, DKK, EUR, GBP, HKD, HUF, HRK, KZT, MKD, MDL, NZD, NOK, PLN, PHP, RON, SEK, THB, TRY, UAH, and USD.
To sum up, the Huobi exchange is a cryptocurrency exchange providing professional trading tools. It is a great option for both advanced and moderate traders, as well as many institutional investors. After reading this
Huobi Exchange review
, if you have any questions, please contact TopreviewCrypto
.