If you are looking for a cryptocurrency derivatives exchange with many advanced trading tools, Bybit exchange is one of the best choices. It not only has top-notch security but also a no-downtime commitment.  This article will give you some more detailed Bybit Exchange review.
1. Bybit Exchange Overview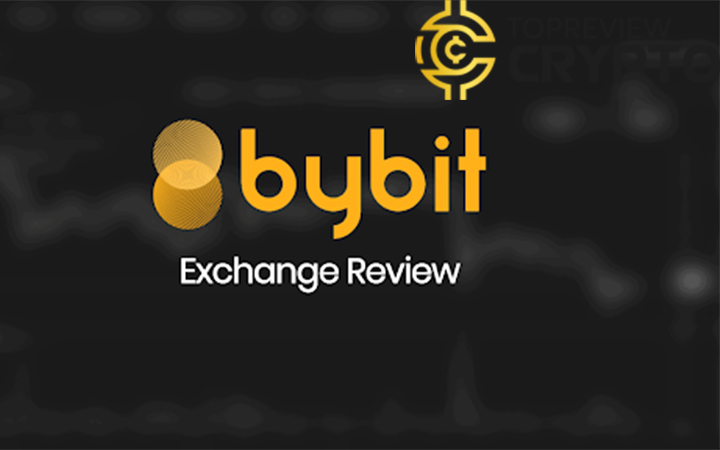 In March 2018, Bybit was established in Singapore. It comprises professionals from the forex industry, tech firms, investment banks, and early blockchain adopters. 
Bybit is now available globally with the exception of service-restricted countries including Singapore, The U.S, Quebec (Canada), Cuba, Sevastopol, Crimea, Iran, North Korea, Syria, Mainland China, and Sudan.
Bybit is a cryptocurrency trading platform that offers spot trading and derivatives trading. They focus on margin trading and offer up to 100x leverage on ETH/USD and BTC/USD trading pairs. Also, the advanced charting interface is greatly detailed and filled with many features. However, it's quite easy to navigate. Stop-loss or Take profit orders are also supported on Bybit. It is an invaluable feature for helping traders minimize losses. This feature is only found on Bybit Exchange. 
Moreover, it is even possible to trade quarterly futures contracts on this platform. These contracts will expire based on their calendar cycle and converge to the spot price. Users don't need to pay any funding fees.
For experienced crypto traders who are looking for an exchange with more advanced features, Bybit is an excellent platform. Many user-friendly exchanges are available with simple interfaces to help new investors join the crypto market.
2. Bybit Exchange review 
If you are a cryptocurrency trader and want to use margin or other derivatives, this cryptocurrency derivatives exchange is a good fit for you. However, like other exchanges, Bybit also provides traders with both pros and cons.
2.1. Pros
Bybit has a ton of features that make it a helpful platform to use. Here TopreviewCrypto will go into detail about the benefits of Bybit.
2.1.1. Derivatives trading and Spot trading
With over 2 million users, Bybit is one of the most excellent crypto derivatives exchanges around. And this leads to high liquidity.
Some derivatives are available at Bybit:
Inverse Perpetual contracts: ETH/USD, BTC/USD, XRP/USD, and EOS/USD (the coin is used as the collateral).

USDT Perpetual contracts: ETH/USDT, BTC/USDT, BNB/USDT, XRP/USDT ADA/USDT, and 15 more (USDT is used as the collateral).

Inverse Futures contracts: ETH/USD and BTC/USD, with a maximum of 6-month contracts (the coin is used as the collateral).
In July 2021, Bybit also added Spot trading to complement its core derivatives offering. Bybit started off with four trading pairs:  ETH/USDT, BTC/USDT, EOS/USDT, and XRP/USDT. Now it has more than 70+ trading pairs available.
2.1.2. Margin trading with up to 100x leverage
Margin trading is very sought after by many experienced traders who want to make more profits on successful trades. The traders can use their borrowed funds to leverage trading, which leads to a higher return on a small investment. Nowadays, Bybit supports a maximum of 100x leverage, enough for almost all traders.
2.1.3. Bybit insurance fund
Bybit provides up to 100x leverage on the trading exchange. Bybit has an insurance fund that can manage and absorb the excess loss. Therefore, traders who have already dealt with loss are not on the hook for more than their initial margin. And some profiting traders are not made to cover the difference.
Bybit's insurance fund is quite simple. It is a reserve pool that the system can dip into to protect traders from negative equity and be held accountable for the excessive loss.
2.1.4. Testnet platform to practice trading
Bybit provides a Testnet. It is a demo version of the main site. Testnet allows users to practice trading without depositing any crypto or real money. Instead, users can use demo Bitcoin to conduct their trades and get their feeling for the exchange before they use their real money.
2.1.5. Fiat gateway for easy deposits
Bybit supports cryptocurrency deposits and it is the easiest deposit method. Moreover, it also has the option for fiat deposits that can use its fiat gateway. Although users cannot directly deposit fiat currency into the exchange, they can access the fiat gateway easily by clicking "Buy Crypto" at the top left of the screen.
2.1.6. 24/7 Live Chat support team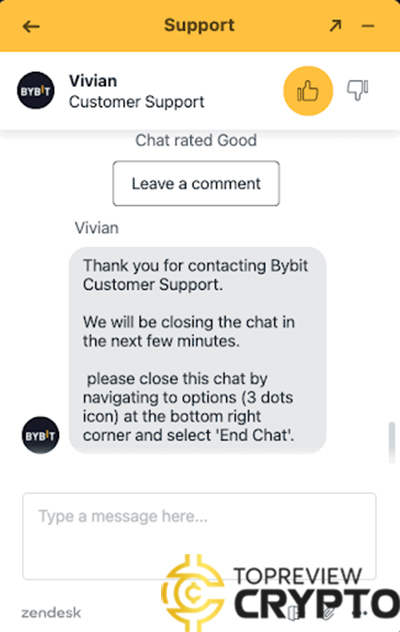 There are two ways to get support. If users have any issues with the exchange, they can click a yellow Support button at the bottom right of the interface. They can type in a question, and then, it will bring up Top Results to answer the query. 
If this doesn't help, in the emergency case, users can hit the Live Chat button. This is quite good compared to other exchanges that only reply via email, without the Live Chat option. 
2.1.7. Mobile app for iOS & Android
The mobile app in Bybit is available for both IOS and Android. The app is very easy to use and very responsive. It appears to have all of the conditional, charts, and trading tools orders found on the desktop site. 
In addition, on the Google Play store, the app also has over 1 million downloads and an average rating of 4.9 stars from over 34 000 reviews.
2.1.8. Rapid trade speed and reliable platform
Traders now don't need to worry about overloads on the Bybit exchange because they have an ultra-fast matching engine. It allows nearly 100 000 trades per second.
Bybit also allows its users to conduct high-frequency trading (HFT) because its platform has lightning-fast market updates and the market data is pushed every 20 milliseconds. Traders can also almost rely on Bybit with its 99.99% system functionality.
2.1.9. Take-Profit / Stop-Loss orders supported
Take-profit orders are conditional orders. It will tell the exchange to sell traders' crypto when the price rises to a certain level (it was set by the trader). This means traders are able to automatically take their profits when the price suddenly shoots up, and they don't need to worry that the price will drop back before they get a chance to sell. Up to now, this is a very useful short-term trading strategy for day traders that want to capitalize on a quick jump in crypto prices.

On the other hand, Stop-losses are automated instructions that announce the exchange to sell a coin when the price drops to a predetermined level (it was set by the trader). Therefore, you don't need to regularly monitor the price of your digital assets while you are busy. Also, you still maintain some control.
2.2. Cons 
Besides the above benefits, Bybit also has some drawbacks.
Not available in the United States: The U.S. has strict regulations in place to control both cryptocurrency exchanges and derivatives trading. Bybit is also not available to customers both in the U.S. and the U.K. To use its site, they have to actively confirm they are not from the U.S.

Crypto derivatives are extraordinarily risky.
3. Supported Cryptocurrencies – Bybit Exchange Review
Bybit offers the most popular cryptos by market cap together and some smaller yet popular cryptos.
These include "AAVE" (Aave), "BTC" (Bitcoin), "BCH" (Bitcoin Cash), "ADA" (Cardano's ADA), "LINK" (Chainlink), "DOGE" (Dogecoin), "EOS" (EOS), "ETH" (Ethereum), ("ETC"), "FIL" (Filecoin), "LTC" (Litecoin), "XEM" (NEM), "DOT" (Polkadot), "MATIC" (Polygon), "XRP" (Ripple's XRP), "SOL" (Solana), "SUSHI" (SushiSwap), "XTZ" (Tezos), and "UNI" (Uniswap).
Bybit users may either purchase crypto on the Bybit platform or transfer already held Bybit supported cryptos to Bybit wallets.
Once invested, users may trade Bybit-supported cryptos derivatives contracts. They may either go short or long by trading inverse/ USDT  perpetual, or inverse futures contracts.
Moreover, supported cryptos very also depend upon the derivatives product and can be summarized as follows:
Inverse Futures:  ETHUSD and BTCUSD.

USDT Perpetual: All supported USD pairings' /cryptos.

Inverse Perpetual: ETHUSD; BTCUSD; XRPUSD; and EOSUSD.

Traders may also trade spots. Pairings currently available include ETHUSDT, EOSUSDT, BTCUSDT, and XRPUSDT.
4. Bybit Trading Fees – Bybit Exchange Review
There are different fees that are involved for market takers and market makers. And dependent on if you are Spot trading or Derivatives trading.
Spot Trading: Market takers and makers both pay a fee of 0.1%.

Derivatives Trading: Market takers pay a fee of 0.06%; market makers pay a fee of 0.01%.
5. Bybit Withdrawal Fees – Bybit Exchange Review
| | | |
| --- | --- | --- |
| CRYPTOCURRENCY | MINIMUM WITHDRAWAL | WITHDRAWAL FEE |
| BTC | 0.001 BTC | 0.0005 BTC |
| ETH | 0.02 ETH | 0.01 ETH |
| EOS | 0.2 EOS | 0.1 EOS |
| XRP | 20 XRP | 0.25 XRP |
| USDT (ERC-20) | 20 USDT | 10 USDT |
| USDT (TRC-20) | 10 USDT | 1 USDT |
All in all, Bybit fits anyone engaged in crypto margin trading. It provides a viable alternative to the services already being offered by exchanges such as PrimeXBT, BitMEX, Deribit, and Huobi. Bybit is safe, secured, and transparent.