Warning
Given FTX's recent liquidity issues, we do not recommend opening an account with this exchange at this time. We are actively monitoring the situation for any information that will allow us to update this recommendation.
Ftx Exchange review
Ftx is now a fast-growing cryptocurrency exchange. It focuses on trading, with a wide range of products including options, derivatives, volatility products, and leveraged tokens. In this Ftx Exchange Review, TopreviewCrypto will give you more detailed information about its pros and cons.
Based in the Bahamas, Ftx made its way onto the cryptocurrency scene in 2019 with the goal of becoming the world's leading platform for trading tokens. Just after a few years of founding, it's one of the top centralized crypto exchanges that is valued at over $18 billion.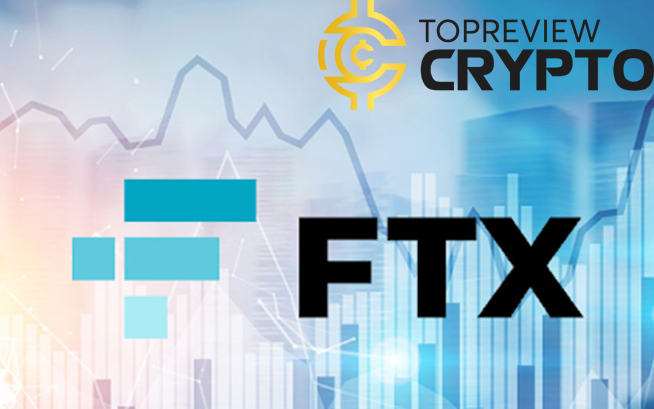 Ftx's platform has a lot of features that professional trading firms and experienced traders will find invaluable. However, it also provides basic spot trading that many newcomers to the cryptocurrency market will enjoy. Ftx offers several products that may attract to both sophisticated traders and crypto newcomers. For experienced traders, this platform supports stocks, trading futures, and leveraged tokens. For new investors, it offers spot trading. 
The mobile app and the user-friendly interface attract cryptocurrency investors of many different experience levels due to the variety of available order types and their ease of use. Users can set market orders, stop orders, limit orders, and more.
Ftx exchange will need to verify users' identities before they can trade. They will have withdrawal and deposit limits based on the membership tier they qualify for. 
+ In Tier 1, it has the lowest level of verification requirements. Users/ Members can withdraw up to $10,000 worth of fiat currency or cryptocurrency per day and $300,000 per lifetime and make up to $500 in ACH deposits per 10 days period. 
+ In Tier 2, members/ users have no withdrawal limits. They can make ACH deposits of up to $5,000 in a 10 days period.
You can withdraw and deposit funds via wire transfers in 11 fiat currencies, including AUD, BRL, CAD, CHF, EUR, GBP, HKD, SGD, TRY, USD, and ZAR.
Pros – Ftx Exchange Review
Despite being a young cryptocurrency exchange, Ftx has quickly built up a reputation as a fully-featured and robust trading platform. It provides a lot of benefits to users. You can know more through the following Ftx Exchange Review.
2.1. Easily and quickly swap currency or one coin to another
Ftx has a very easy option for those who want to quickly swap their cryptocurrency or fiat to another coin. It is right there on the home page once users have logged into their account, and it is simple for even newcomers to use. They just need to select which coin (or fiat currencies) they want to convert from, and which coin they want. Then, select the quantity of the coin they want to convert from, and lastly, click "Convert" to finish the transaction.
2.2. Mobile app for both Android and iOS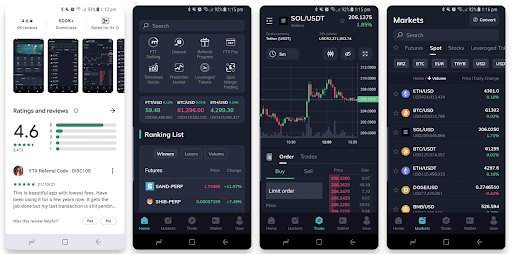 As mentioned above, Ftx has a fully-featured app called Ftx Pro that is available for mobile devices on both Android and iOS. On the Google Play Store, this app has over 500,000+ downloads and a 4.6-star rating from over 6,000 reviews. The interface of this app is easy to navigate, and users still have access to all the derivatives markets that are found on the desktop site.
2.3. Over 275+ different cryptocurrencies supported
This platform offers a wide range of over 275+ coins. It is a respectable number for most traders and investors and they are regularly adding more coins as well.
2.4. Staking available – then earning interest on your cryptocurrency
Ftx now offers to stake on a few coins such as  RAY, SRM, and SOL. By staking the crypto, traders are locking it up on the Ftx exchange (they cannot transfer or sell it while it is staked) but in return, they receive rewards paid in the crypto that they staked, similar to interest in a bank. 
For instance, if they stake RAY they will receive 20% more RAY coins on an annualized basis.
2.5. Hold and stake Ftx's token (FTT) for benefits
Ftx exchange has its own coin called FTT that traders can purchase on the platform as well as some further crypto exchanges. Traders can earn benefits for staking FTT, including waived blockchain fees, trading fee discounts (receive a number of free ETH and ERC20 withdrawals per day), and increased airdrop rewards. If users don't want to stake their FTT, they can just hold FTT in their account, and they automatically receive discounts on their trading fees with as little as $100 USD worth of FTT.
2.6. NFT marketplace – buy and sell NFTs
NFTs have become particularly popular, and the Ftx exchange offers a marketplace for users to get on board. Users can buy, sell, mint, and store their NFTs on this platform. It has recently opened a marketplace for selling and buying non-fungible tokens (NFTs). It's also possible to use the marketplace to mint their own NFTs and then auction them off to other users. Ftx has disabled minting on its international portal since November 12, 2021. However, it's still possible to mint NFTs at Ftx.us, which is available to users outside and inside the U.S.
2.7. Donate1% of all net fees to charities 
Different from other crypto exchanges, Ftx is committed to making the world a better place. It was established with the goal of donating to the world's most effective charities. They donate 1% of all their net fees to charities. Until now, they have donated over $14 million to charities which include users' donations.
2.8. Ftx Pay – get paid in crypto or fiat
With Ftx Pay, users can send/receive payments in fiat or crypto using a secure, fast, and low-fee payment processor. This is both useful for sending money between family and friends and also be used by merchants to accept payments from users. The funds can also be sent straight to an external wallet or an Ftx account.
2.9. Advanced markets (stocks, futures, leveraged tokens, forex, volatility)
Ftx's users may access a huge range of advanced markets such as stocks, futures, leveraged tokens, forex, and volatility that cannot be found on more basic crypto exchanges. 
2.10. Low Trading Fees
The low trading fee is one of the main draws of the Ftx exchange. Maker fees can start at 0.02%, while taker fees can start at 0.07%. For those who are unfamiliar with the maker or taker terminology, maker fees are charged on orders that aren't filled directly, that is the limit orders that go onto the exchanges order books. Moreover, makers get lower fees as a way to encourage them to provide liquidity. Taker fees get charged to the market orders that are filled directly. Those staking the native FTT token of the exchange and high volume traders get even lower fees.
2.11. Margin Trades
Not everyone can access margin trading at Ftx, but if their account is over $100k, margin trading is allowed. It means that users can trade with up to 10x leverage, helping them more efficient use of their capital. However, through our research and our Ftx Exchange review, please remember that margin trading is also high-risk and shouldn't be suggested for newcomers.
Cons – Ftx Exchange Review
Not available in the US: Because of stricter regulations, Ftx exchange is not available to residents of the USA. However, it still has another way that helps residents of the USA can use this platform. They can access the Ftx US platform. It is just available on spot trading and does not have derivatives trading.

Costly USD withdrawal fees: Besides low Trading Fees for other cryptos, Ftx's withdrawal fee for USD is a steep $75 if users' withdrawal is less than $10,000.

Limited customer support (No Live Chat support): Ftx offers limited options for the users to contact customer support in case of emergency. It is disappointed that it does not have any live chat support. Users just can get support through email.
Ftx Fee – Ftx Exchange Review
Up to now, users have to pay fees for some activities they carry out on the Ftx platform:
4.1. Ftx Deposit Fees
It is free to deposit fiat and cryptocurrency into Ftx.
4.2. Ftx Trading Fees
As mentioned above, Ftx charges 0.07% for takers, and 0.02% for makers, with discounts based on increased trading volume. 
If users hold FTT tokens (Ftx's own coin), they also receive discounts on their Ftx trading fees. The discount is based on how much FTT they hold.
4.3. Ftx Fiat Withdrawal Fees
For BRL Withdrawal: 0.3% + R$10

For USD Withdrawal: $75 fee if trade is < $10,000

For other fiat currencies: No fee charged
4.4. Ftx Crypto Withdrawal Fees
For BTC (> 0.01 BTC): free

For BTC (< 0.01 BTC): one free withdrawal/ day, then users have to pay blockchain fees

For ETH and ERC-20 tokens: except for FTT staked, other users have to pay blockchain fees 

For all other cryptos: free
If users have FTT staked, they will receive a number of free ERC-20  or ETH withdrawals each day. Nevertheless, Ftx doesn't charge cryptocurrency fees for blockchain transfers or deposits, and it pays the withdrawal blockchain fee for most tokens.
To sum up, Ftx is a perfect choice of cryptocurrency exchange for both experienced traders as well as newcomers to crypto. They have actually done a wonderful job building a platform for advanced trading, with a variety of investment markets such as forex, volatility products, futures, and leveraged tokens. After reading this Ftx Exchange Review, if you want to get more advice, please contact TopreviewCrypto.info